You are here
LGBTQ Ally Training Program
What is an LGBTQ Ally?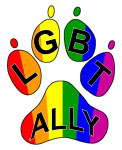 As defined by the Human Rights Campaign (www.hrc.org), a straight supporter or straight ally is someone who supports and honors sexual diversity, acts accordingly to challenge homophobic remarks or behaviors and explores and understands these forms of bias within him- or herself. Just as it takes courage for gay, lesbian, bisexual and transgender people to be open and honest about who they are, it also takes courage to support your LGBTQ friends or loved ones.
There are many different ways that you can show your support for the LGBTQ people in your life. Again, there is no one "right" way to demonstrate your support – and being supportive does not require you to march in parades or become an activist. By opening up and being honest with the people in your life about knowing and caring for a LGBTQ person, you will be taking a small, but important, step toward making the world more understanding and supportive for that person.
LGBTQ Allies at Bloomsburg
If you belive that you are an LGBTQ Ally and agree with our Non-Discrimination Statement please visit the LGBTQ Ally page to join the Ally list.
Ally Training Program
The Ally Training Program is open to anyone affiliated with Bloomsburg University. This hour long program introduces participants to terminology used in the LGBTQA Community and what you can do to help the cause.
Ally Training Request Form