ReUnions
November 3 - 5, 2017
You are here
Mid-Atlantic LGBTQA Conference
Mid-Atlantic LGBTQA Conference
This year's conference welcomed 243 individuals representing 33 different institutions of higher education, advocacy, faith, and healthcare. Thanks for making our ninth annual conference a resounding success!, we couldn't do this without you!
Survey!

Win free registration to next year's conference!!! Please take a few moments to complete the online survey before December 1, 2016 to be eligible to win. Three winners will be selected and notified by January 1.
We take attendee feedback seriously as we prepare for our next conference!
We also welcome suggestions for Pronoun, Identity, Affiliation, and other ribbons to attach to your name badges. Please take a few moments to complete the online ribbon survey too.
Keynote Address
An Intersectional Queer Movement: From Awareness to Action!
How can we insure that our queer organizations are intersectional? Do we even understand what 'Intersectionality' is? This talk will remind us that in addition to being queer activists we must be social justice activists too, fighting for equity for all. The reality is that adopting an intersectional framework is not an easy process. It involves seeking to understand things that are difficult, empathizing with people who are not like you, stepping back instead of speaking over others and opening yourself up to a high level of accountability. If you're doing it right, it should be challenging you, stretching you, and making you uncomfortable. The complexity of an intersectional queer movement is a difficulty and discomfort that is meant to inspire change.
A recording of the Keynote Address is now available.
Second Annual LGBTQA Art Exhibition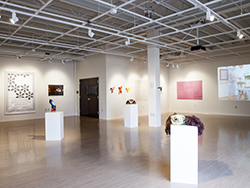 We invite the public to visit the (De)constructing Identities exhibition at The Gallery at The Greenly Center in downtown Bloomsburg.
The exhibition will be open during these hours through December 5, 2016:
Monday: 2:00 - 4:00
Tuesday: 11:00 - 1:30
Wednesday: 2:00 - 4:00
Thursday: 11:00 - 4:00
Friday: 2:00 - 4:00
Upcoming Events!
Please support these upcoming community events. If your organization is hosting an event and you'd like us to list it here, send us an email.