You are here
Safe Zones Program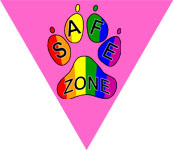 The BU Safe Zone program, coordinated by the LGBTQA Commission, is designed to improve visibility and support of LGBTQA students and employees. While other minority individuals can often identify role models and mentors, the invisibility of sexual orientation makes it very difficult for LGBTQA members of the BU community to ascertain where they can safely turn for support and information. The Safe Zone program is comprised of trained faculty and staff (identifiable by the Safe Zone emblem posted on their door) who will be available to provide these resources.
The Safe Zone symbol is a message to LGBTQA students and colleagues that an employee has participated in the Safe Zone training and is committed to increasing their knowledge of and sensitivity to LGBTQA issues. The symbol allows the campus community to identify program members and know that they can speak freely with these individuals about issues, including sexual orientation and gender identity, which may affect their academic success or job satisfaction. Safe Zone members will be able to provide assistance, as needed, including referrals. Because one of the goals of the Safe Zone program is to improve the campus climate for LGBTQ individuals, the symbol also signifies that Safe Zone members have agreed to challenge homophobic and heterosexist comments or behaviors in an educational and informative manner.
The Safe Zones Project is based on a two part course to familiarize members with the LGBTQA community as a whole and specifically here at Bloomsburg University. Upon completion of the second segment of the course, the 'student' will be given the opportunity to have their name listed on the public website and/or post an insignia in their office.
To enroll in a training session, please complete part one of the training and register for an upcoming part two session. Click here to begin.