You are here
Previous Shows
---
Please click show posters to see promotional pictures (not available for all productions)
---
2013 - 2014 Academic Year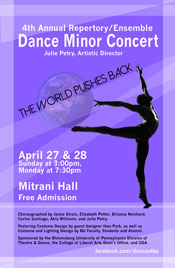 4th Annual Repertory/Ensemble Dance Minor Concert
Julie Petry, Artistic Director
April 27 & 28, 2014
Sunday at 3:00pm, Monday at 7:30pm
Mitrani Hall, Haas Center for the Arts
Free Admission
Covering a vast array of dance styles, this exciting concert features a blend of student, faculty and staff talents, alongside varied guest artist designers. From political and social commentary, to dance for the sake of entertainment, this concert works to leave the audience with a piggy bank full of powerful imagery, and unforgettable moments connecting energy, music, expression, and visual meaning.
For more information about the Dance Concert, be sure to Like facebook.com/danceatbu.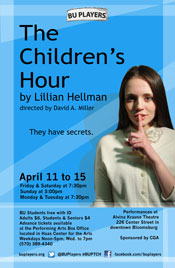 The Children's Hour by Lillian Hellman
Directed by David A. Miller
April 11-15, 2014
Friday and Saturday at 7:30pm, Sunday at 3:00pm, Monday and Tuesday at 7:30pm
Alvina Krause Theatre, downtown Bloomsburg
It is 1934. Two women successfully run a school for girls. One of their students is determined to do as she pleases, even if it means creating a corrosive lie that undoes the women's lives.
Tickets are free to BU students with ID, $6 for Adults, $4 Students & Seniors. Advanced tickets available at the Performing Arts Box Office located in the Haas Center for the Arts, weekdays Noon to 5pm, Wednesdays noon to 7pm. (570) 389-4340. Remaining tickets will also be available at the door starting one hour before curtain time.
For "behind the scenes" photos and information about The Children's Hour, visit facebook.com/buplayers and follow BU Players on Twitter at @buplayers.
February Festival: 30 Plays in 60 Minutes: The 24 Hour Plays
Directed by Kevin R. Free
30 Plays in 60 Minutes
30 Neo-Futurist Plays Created by the Company
DATES: February 13-15, 19-20, 2014
DAYS AND TIMES: Thursday, Friday and Saturday at 7:30pm, Wednesday and Thursday at 7:30pm
LOCATION: Alvina Krause Theatre, Downtown Bloomsburg
DESCRIPTION: This performance is just like it sounds: an attempt to perform 30 plays in 60 minutes. And to add to the challenge, it's the audience who selects the order each night! Can you help the company of actors beat the clock?
The Neo-Futurists are a Chicago-based theatre company. Their production of Too Much Light Makes the Baby Go Blind has been running for more than 20 years. For more about the Neo-Futurists, visit www.neofuturists.org. This production will be directed by professional guest artist Kevin R. Free, a long-time New York Neo-Futurist.
THEMES: Improvisation, audience participation, collaboration, economy of language
The 24 Hours Plays
GENRE: Plays, Mixed
DATES & TIMES: Saturday, February 22, 2013 at 7:30pm
LOCATION: Alvina Krause Theatre, Downtown Bloomsburg
DESCRIPTION The company of student actors and designers will create a series of plays in 24 hours and you, the audience, will see their world premiere! Stay tuned for what the teams will receive as a prompt on Friday night as their "starting gun" to begin the one day cycle they will have to make a play.
THEMES: Improvisation, ingenuity, collaboration
Tickets are free to BU students, $6 for adults, $4 seniors. For more infomation about tickets, see the Box Office.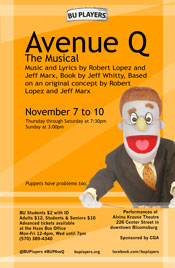 AVENUE Q - Directed by David A. Miller
Music and Lyrics by Robert Lopez and Jeff Marx, Book by Jeff Whitty, Based on an original concept by Robert Lopez and Jeff Marx
DATES: November 7 to 10, 2013
DAYS & TIMES: Thursday, Friday, Saturday at 7:30pm, and Sunday at 3:00pm
GENRE: Musical Comedy (with Adult Themes) in Two Acts
LOCATION: Alvina Krause Theatre, Downtown Bloomsburg
DESCRIPTION: Avenue Q is a laugh-out-loud musical that focuses on a group of unique 20-somethings making their way in the big city, seeking their purpose in life. Avenue Q tells the timeless story of a recent college grad named Princeton who moves into a shabby New York apartment all the way out on Avenue Q. There, he meets Kate (the girl next door), Rod (the Republican), Trekkie (the internet sexpert), Lucy the Slut (need we say more?), and other colorful types who help Princeton finally discover his purpose in life!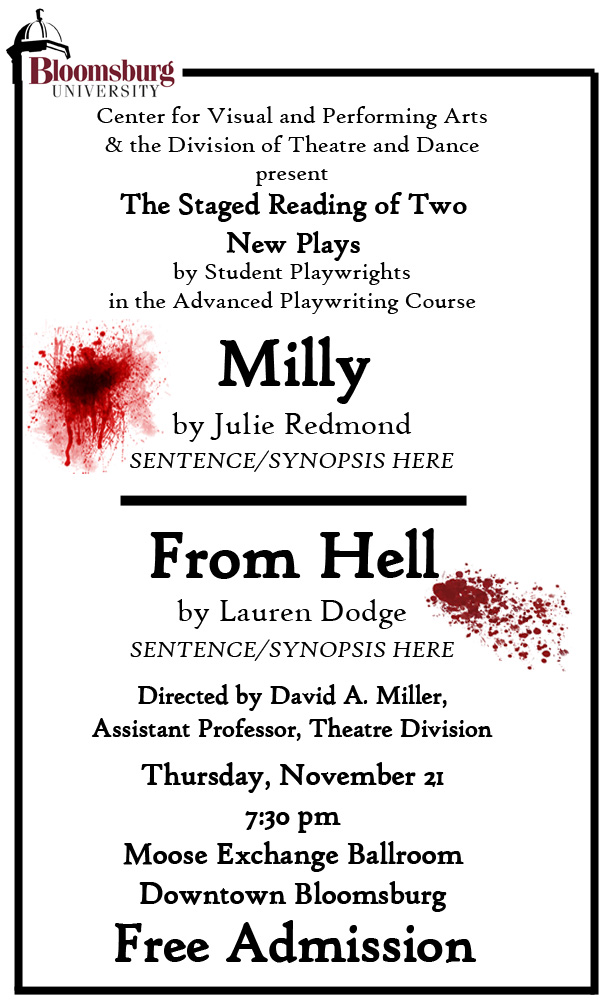 New Plays Project: MILLY by Julie Redmond & FROM HELL by Lauren Dodge
DATE: Thursday, November 21 at 7:30pm
LOCATION: Moose Exchange, 203 West Main Street, Downtown Bloomsburg
TICKETS: Free Admission at the Door
Staged readings of two new plays by student playwrights from the Advanced Playwriting course featuring student actors. Directed by David A. Miller. Sponsored by the Center for Visual and Performing Arts and the Division of Theatre and Dance.
2012-2013 Season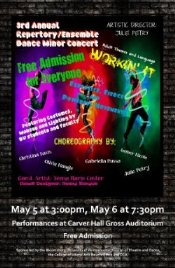 3rd Annual Repertory/Ensemble Dance Minor Concert
May 5 & 6, 2013
Sun. at 3 pm, Mon. at 7:30 pm
Kenneth S. Gross Auditorum, Carver Hall, Bloomsburg University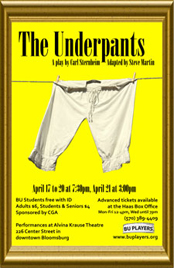 The Underpants
by Steve Martin
April 17 - 21, 2013
Alvina Krause Theatre 226 Center Street in downtown Bloomsburg.
Theobald Maske has an unusual problem: his wife's underpants won't stay on. One Sunday morning they fall to her ankles right in the middle of town-a public scandal! Mortified, Theo swears to keep her at home until she can find some less unruly undies. Amid this chaos he's trying to rent a room in their flat. The prospective lodgers have some underlying surprises of their own. In The Underpants, Steve Martin brings his comic genius and sophisticated literary style to Carl Sternheim's classic 1910 farce.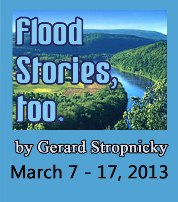 Flood Stories, Too
by Gerard Stropnicky
March 7 - 17, 2013
Thurs. - Sat. at 7:30 pm, Sat. at 2 pm, & Sun. at 3 pm
A BU Players / Bloomsburg Theatre Ensemble co-production at the Alvina Krause Theatre
Our homes, our neighborhoods, our valley and our lives were transformed in the fall of 2011 by Tropical Storm Lee. In Flood Stories,Too., BU Players joins forces with the Bloomsburg Theatre Ensemble and the Bloomsburg Bicentennial Choir to transform your words and your stories about that record-breaking event into an epic production of heartbreak and survival. This world premiere will be written and directed by Ensemble Emeritus Gerard Stropnicky, nationally acclaimed for his community-developed theatre creations. Flood Stories, Too. will be a time for our communities to come together in recognition of nature's awesome power, and to celebrate the generosity of friends and strangers.
Please click the show poster for preview pictures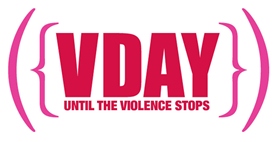 V-Day 2013
February 13 - 16, 2013 at 8 pm
The Moose Exchange, Grille Room, 203 West Main Street, Downtown Bloomsburg
The Vagina Monologues - Feb 13, 14, 16 at 8 pm
One Billion Rising - Feb 14 ONLY at 9:30 pm (immediately after The Vagina Monologues)
A Memory, A Monologue, A Rant and A Prayer - Feb 15 ONLY at 8 pm
V-Day is a global movement of grassroots activists dedicated to generating broader attention and funds to stop violence against women and girls, including rape, battery, incest, female genital mutilation (FGM) and sex slavery.
Please be aware these performances feature adult material and are inappropriate for children.
Presented in conjunction with The Center for the Visual and Performing Arts at Bloomsburg University of Pennsylvania.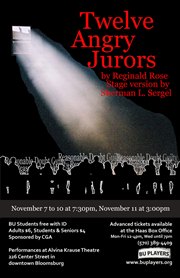 12 Angry Jurors
by Reginald Rose
November 7 - 11, 2012
Wed. - Sat. at 7:30 pm, Sun. at 3 pm
Alvina Krause Theatre
A diverse group of twelve strangers must decide the fate of an inner-city teen on trial for the murder of his abusive father. Locked in a jury room, tempers flare and frustration abounds as their own prejudices, fears, and cultural biases boil to the surface in what was expected to be an open-and-shut case. The American judicial system is as much on trial as the defendant when these twelve jurors dramatically wrestle with their civic duty.
Please click the show poster for preview pictures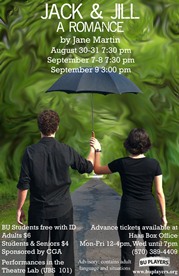 Jack & Jill
by Jane Martin
August 30, 31, Sept. 7, 8, and 9, 2012
All performances at 7:30 pm except Aug. 9 at 3 pm
Theatre Lab (UBS 101) on the BU Campus
Love makes total sense when you're in it. But as we all know, any friend or family member who is an outsider to any given relationship is automatically qualified to be Dr. Phil. With Jane Martin as a non-judgmental tour guide, Jack and Jill makes for an enjoyable and humorous exercise recognizable to anyone who's gone through the ups and downs of a serious relationship.
2011 - 2012 Academic Year
2010 - 2011 Academic Year
2009 - 2010 Academic Year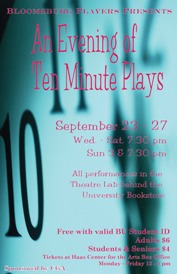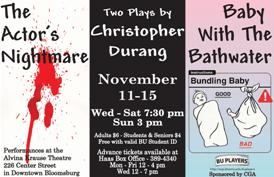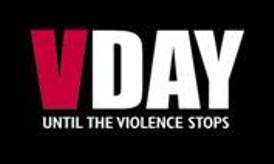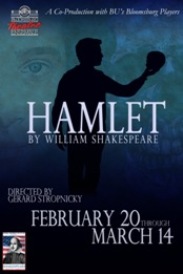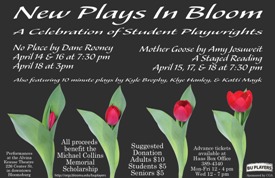 2008 - 2009 Academic Year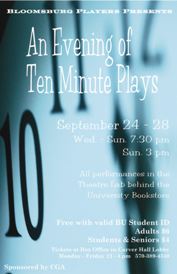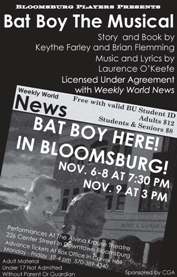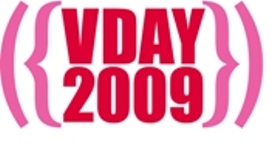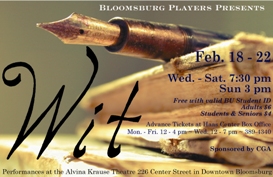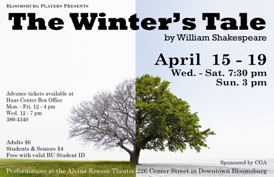 2007 - 2008 Academic Year
2006 - 2007 Academic Year