You are here
Jazz Ensemble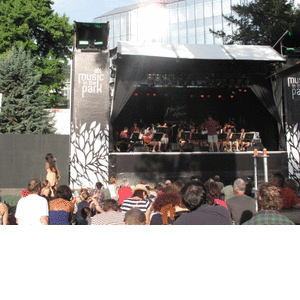 Under the direction of Dr. Stephen Clickard, The Jazz Ensemble is comprised of musicians utilizing the now standard instrumentation of five saxes, five trumpets, five trombones, and rhythm section.
The ensemble plays music which spans from the 1930s to the present from many of the great bands in jazz. It's emphasis is on the post-swing modern jazz era. This includes works from many of jazz's greatest composers.  The ensemble has performed with many of jazz's greatest performers, including: Dave Liebman, The New York Voices, Hilton Ruiz, Dave Valentin and T.S. Monk.
The band has just finished its European Tour, which included performances at the legendary Montreux Jazz Festival in Switzerland and the Umbria Jazz Festival in Perugia, Italy.
The University Jazz Ensemble is an auditioned group. Auditions are held at the beginning of each semester.
Need more information?
Contact Dr. Clickard
---
Jazz Festival - Wednesday, April 27, 2016
The Bloomsburg University Jazz Festival is in its 16th year. The festival provides a wonderfully educational opportunity for middle and high school student musicians  throughout the commonwealth. The festival always has fantastic clinicians and guest artists. These have included, Phil Woods, The New York Voices, Dave Liebman, Dave Valetin, Grace Kelly, Salsamba and many more. Some of the great educational opportunities for participants include a free concert by the featured guest artists, taped comments provided by outstanding jazz educators, a full band clinic based on your ensembles performance and participation awards for the outstanding sections and soloists in your ensemble!
Contact Dr. Stephen Clickard if you wish more information.
---