You are here
Dance Minor
The Department of Music, Theatre and Dance at Bloomsburg University is proud to offer a Minor in Dance which consists of 21 credits. The credits cover a broad range of topics aimed at developing technique, exploring the history of the form, expanding performance skills, exploring multi-cultural forms, and practicing the craft of dancemaking. The program seeks to instill students with knowledge of current and contemporary practices and philosophies within the field, while revealing potential career possibilities both directly and indirectly related to the art form itself. Through analytic, critical, physical, artistic and practical experiences, students will digest a broad view of dance, while having the ability to select electives appropriate to their direct interests and/or area of major studies. Elective options include courses such as anatomy, nutrition, theatre, exercise science studies, among others, and will complement many career opportunities and directions.
The study of dance as an art form develops superb intellectual, artistic, physical and emotional competencies. Dedication, precision, shared collaboration, and critical body awareness are just a few of the skills students may gain. Such work is highly transferable to many fields including nursing, teaching, counseling, physical therapy, and theatre among others.
Dance, as a field of study, addresses the only universal language—body language (a concept widely discussed by dance practitioners, body language experts, and those who work in various health fields.) Dance allows us to operate through an alternate mode of study—physicality, in order to develop our creativity, attention to detail, mind/body coordination, and sense of expression. Dance gives us a lens through which to view humanity, as dance has been around as long as people, in every culture around the world.
For further discussion of how this minor may complement your major area of study, feel free to contact Asst. Professor Julie Petry at jpetry@bloomu.edu or (570) 389-4981 to schedule an office visit.
Dance Minor Requirements
Dance Minor Requirements (Academic Catalog)
Dance Minor Concert
Students enrolled in several classes each spring semester have the opportunity to participate in an annual Dance Minor concert.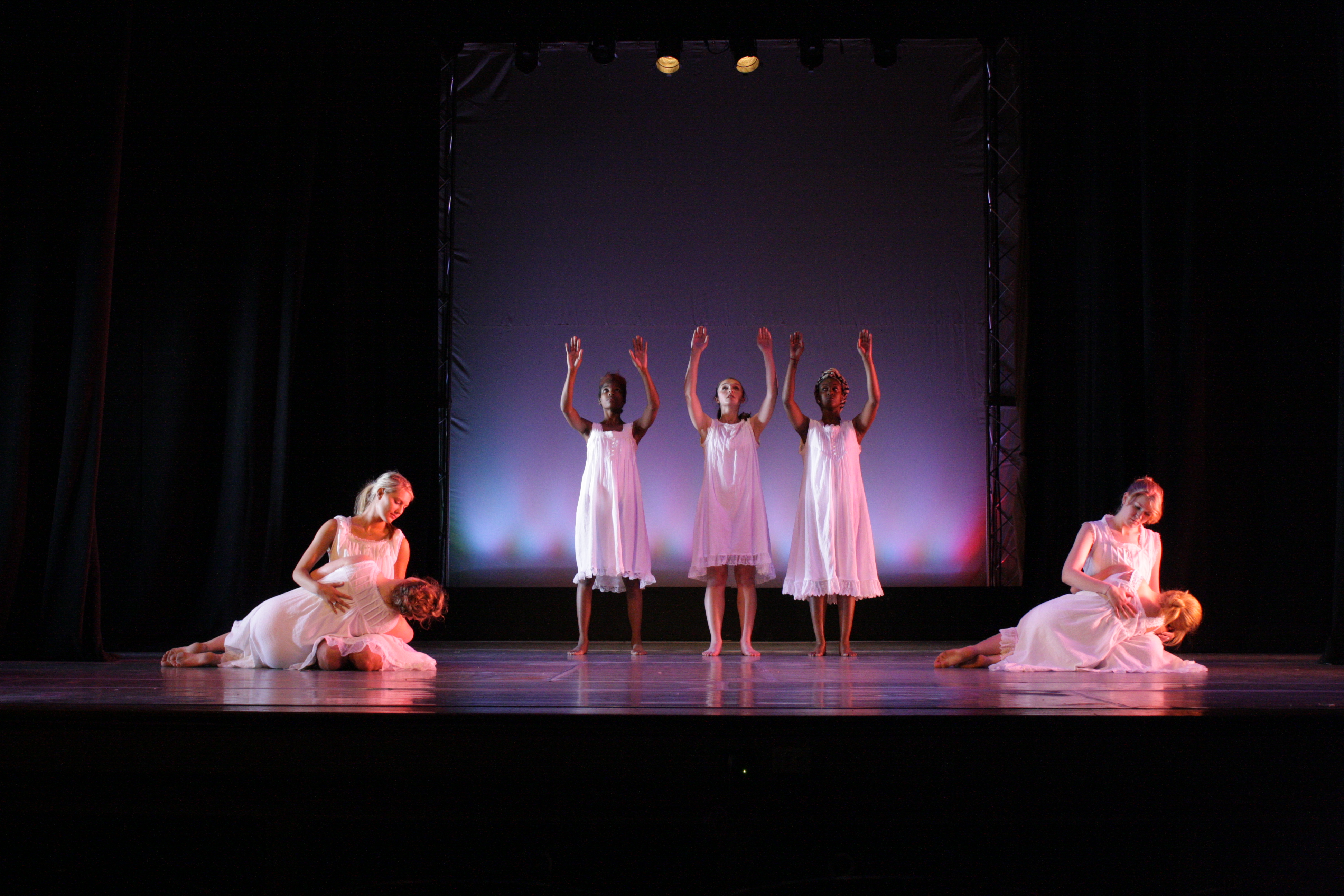 Photo: Rest in Pieces (Dance Concert 2013). Choreography: Julie Petry. Dancers: Christina Davis, Alison Detwiler, Breana Gretsky, Katrina Laubach, Amber Nicole, Elizabeth Potter, Megan Young. Costume Design: Jenny Kenyon. Lighting Design: Bruce Candlish. Photograph: Bruce Candlish.
For additional Dance Concert photos.
BU Dance Ensemble
BU also has a large student run organization for those interested in dance activities not connected to academic credit.
Please visit the Dance Ensemble Website for more information.