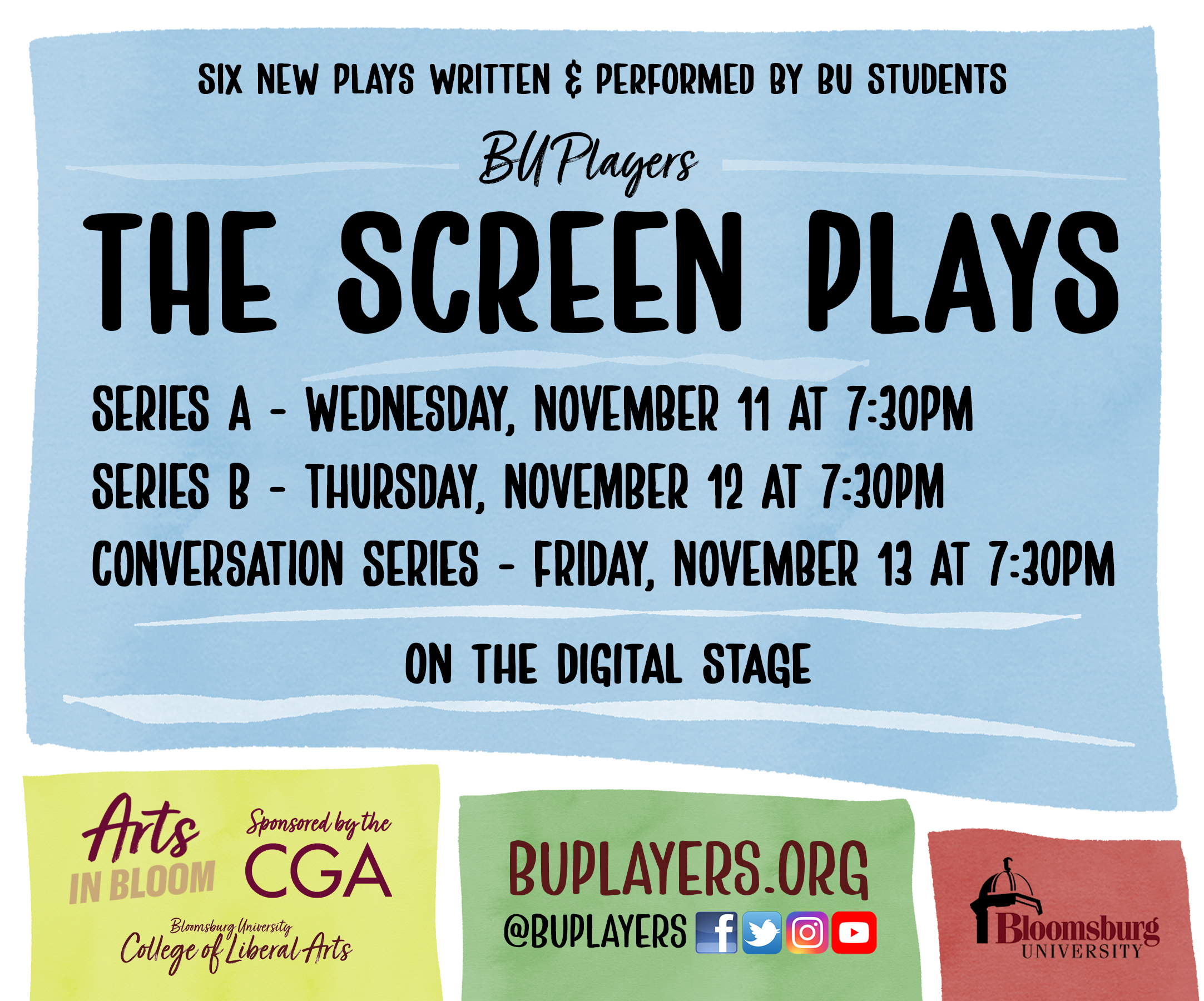 ---
The Screen Plays
Dramatic Stories & Digital (Dis)connections
A virtual performance festival of six original plays written and performed by Bloomsburg University students
---
Student playwrights from Theatre and Creative Writing have written new short plays that take place in a video/digital environment (real or invented). The truthful circumstances of their environment make it necessary that their meeting is by way of digital screens. The plays are acted by Bloomsburg University students and directed by advanced directing students and faculty from the Division of Theatre and Dance.
The Digital Program for The Screen Plays (PDF) is available here.
Please note that The Screen Plays contain mature content and language.
To learn more about the BU Players, visit http://bloomu.edu/bu-players and follow us on Instagram and Facebook.

Series A :: Premiering Wednesday, November 11 at 7:30pm
---
---
Series B :: Premiering Thursday, November 12 at 7:30pm
---
Use this link to tune in to Series B on the BU Players YouTube.
---
Conversation Series :: Premiering Friday, November 13 at 7:30pm
---
Use this link to tune in to the Conversation Series on the BU Players YouTube.

The Company
Leadership Team for The Screen Plays
Prof. David A. Miller, Artistic Director
Prof. Ethan Krupp, Design Mentor
Dr. Carrie Winship, Dramaturgy Mentor
Avery Roberts, Production Stage Manager
Series A - Premiering November 11

The First Date Conundrum 
Kirsten Hamilton, Playwright
Prof. Julie Petry, Director
Max Kreiss, Production Designer
Brandon Ferguson, Rory
Kamryn Felty, Jodie
Max Kreiss, Stage Directions

Gummy Bear Shots
Kali Morgia, Playwright
Dr. Carrie Winship, Director
Reagan Radel, Production Designer
Kalie Peterson, Andy
Rebecca Thomas, Brit
Abigail Golden, Becca
Mary Kate Prisco, Stage Directions

The Spy-nanigans of Holden Hunt and Jace Jones: The Past's a Spy-rus
Samantha Corcos, Playwright
Lindsay Cocker, Director
Sarah Goldstein, Production Designer
Noah Eisengrein, Holden
Mark Obrzut, Jace
Destiny Rosario, Dr. Brie Butler
Nicola Scicchitano, Stage Directions

Series B - Premiering November 12

Post-Audition
Brian Bond, Playwright
Prof. David A. Miller, Director
Eliana Tate, Dramaturg
Zach Shultz, Cooper
Mary Burnett, Violet
Gibryl Livingston, Dante
Eliana Tate, Stage Directions

The Proposition
Sebastion Logosso, Playwright
Reagan Venturi, Director
Olivia Hershey, Production Designer
Kali Morgia, Assistant Production Designer
Leah Samuel, Dramaturg
Jacob Eiden, Jeremiah
Charles Donahue, Snake Eyed John
Johanna Gelbs, Stiff-Legged Suzy
Sebastion Logosso, Stage Directions

The Wright Solution
Alexis Mucci, Playwright
Heather Rummings, Director
Kirsten Hamilton, Production Designer
Max Kreiss, Dramaturg
Olivia Spory, Allie Wright
Lydia Hannibal, Dr. Kristen Marquez
Max Kreiss, Stage Directions

StreamYard Technicians
Ali Buck
Katlyn Cunningham
Richard Erickson
Rylee Simpson
 
Performance Respondents
Marie-Josee Creppy
Javaughn Dutton
Lowensky Etienne
Noah Hartman
Destiny Martinez
Hannah Martz
Heidi O'Boyle

The BU Players are a proud Resident Producer of Arts in Bloom at Bloomsburg University. The Screen Plays are sponsored by the Community Government Association (CGA) of Bloomsburg University. The Division of Theatre and Dance is a part of the College of Liberal Arts. #criticalcreativeflexible

The Michael Collins Theatre Scholarship has been established to assist theatre students in their educational pursuits. Contributions may be made via the Bloomsburg University Foundation website. Please select "Other" from the designation dropdown and add "Michael Collins Endowed Theatre Scholarship".

Questions?
If you have questions about The Screen Plays, contact Professor David A. Miller, Artistic Director.